Private Edward Smith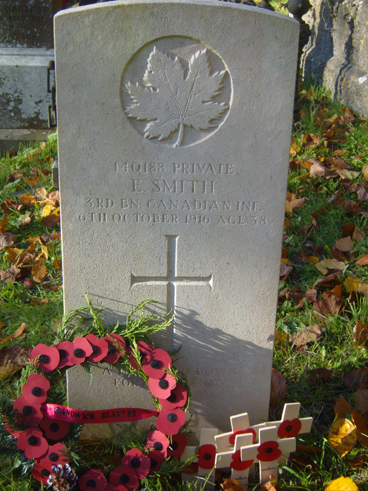 In 2010 Randwick Scout Group adopted the grave of local soldier Private Edward Smith (regimental number 140188).
Private Edward Smith was born on 11 December 1878 and died in the First World War on 6 October 1916. Edward Smith was born in Randwick village in 1878, son of Levi and Prudence Smith. In 1881, the family were living in The Lagger (just off Randwick Playing Fields). Edward is listed in the census as the fourth of five children, ranging from 13 years old down to 4 months. His father, Levi's,  occupation is given as a Woollen Cloth Weaver. By 1891, the family was still the same size and still living in The Lagger. Edward's occupation (at age 13) is given as a Tailor's Apprentice, while 2 of his older brothers were Gig Drivers and the other was a cloth worker. We cannot find a record for Edward in the 1901 census, so perhaps he had already emigrated to Canada, or was perhaps fighting in the Boer War. He did claim previous military experience when he enrolled into the Canadian army (more on that later).
At the beginning of the 20th Century, the Canadian government actively sought immigrants to boost the economy. New Canadians were encouraged to move to the west to settle and farm the wide tracts of the Prairies. The lure of a new life and new opportunities resulted in a million and a half British people arriving in Canada in the early 1900s. They represented 40% of all immigrants and Edward Smith was most likely one of these. Special immigrant ships were laid on and in some cases certain shipping lines specialized in transporting the vast numbers to their chosen new country. Certainly for the Smith family employed in the declining cloth industry of the Stroud valleys, raising the passage fee for Edward would likely to have been a major undertaking.
Edward Smith enrolled into the 3rd battalion of the Canadian infantry on 26th July 1915 in Toronto, Ontario. It is estimated that maybe up to 60% of recruits in the Canadian army at this time were immigrants signing up to fight for the "old country". Amongst the details he gave on his enrolment form were his date of birth as 12th November 1884 (a little white lie?), his occupation as a "Garment Worker" and his next of kin as Levi Smith (father) of Randwick, Stroud, Gloucestershire. He is described as being 5 foot 7 inches tall, with a chest of 34½ inches fully expanded, a fair complexion, grey eyes, and brown hair. His religion is given as Church of England. He had no distinctive marks, marks indicative of congenital diseases or previous diseases. The question of marriage was initially answered "Yes", but this then heavily overwritten with "No". Another white lie?
In mid 1916 the 3rd Battalion Canadian Infantry took part in several of the battles of the Somme offensive in France. Edward either fell ill whilst in France or more likely was wounded and either way was repatriated to the UK. He died at 18 Shorncliffe Road Folkestone, one of the many private homes provided by the people of the town and turned into small support hospitals staffed by Canadian or voluntary aid personnel. His parents, as next of kin, would have been asked where they would like him to be taken for burial and would appear to have chosen their parish churchyard. So, their boy came home. The grave of Pte Edward Smith in Randwick church yard has a standard, white stone Commonwealth War Graves Commission (CWGC) headstone, which bears a maple leaf emblem. As such, that organisation will arrange for the grave to be maintained in perpetuity. The epitaph reads "140188 Private E Smith, 3rd Bn Canadian Inf, 6th October 1916. A life laid down for friends". 
Credits for the information on this page www.ancestry.co.uk, Graham Adams of the Gloucestershire war graves project, Sue Francis of the Randwick Historical Society and The Canadian Great War Project.